---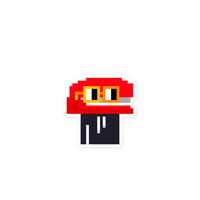 "And I said, I don't care if they lay me off either, because I told, I told Bill that if they move my desk one more time, then, then I'm, I'm quitting, I'm going to quit. And, and I told Don too, because they've moved my desk four times already this year, and I used to be over by the window, and I could see the squirrels, and they were merry, but then, they switched from the Swingline to the Boston stapler, but I kept my Swingline stapler because it didn't bind up as much, and I kept the staples for the Swingline stapler and it's not okay because if they take my stapler then I'll set the building on fire..." Milton, from "Office Space"
These stickers are printed on durable, high opacity adhesive vinyl which makes them perfect for regular use, as well as for covering other stickers or paint. The high-quality vinyl ensures there are no bubbles when applying the stickers.
• High opacity film that's impossible to see through
• Fast and easy bubble-free application
• Durable vinyl, perfect for indoor use
• 95µ density
Don't forget to clean the surface before applying the sticker.
Size guide
| | |
| --- | --- |
|   | 3X3 |
| Height (inches) | 3 |
| Width (inches) | 3 |